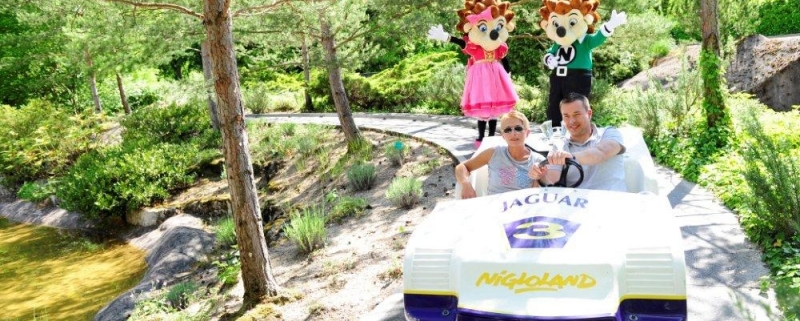 Developing a successful costume character programme
Helen Ede at costume character and mascot specialist Rainbow Productions looks at the use of characters in parks and other entertainment venues.
Opportunities for costume character activities within parks and FECs are varied and include meeting guests on arrival, entertaining families queuing for rides, performing in stage shows and attending birthday party packages. However, the starting point of a well-run costume character programme should be the end-audience.
When designing a character, the focus should be through a child's eyes, thinking from their physical perspective about how the character will look to them. The aim is to create a character which appeals to children, whilst also complementing the venue's offering and branding.
Design should also be sympathetic to the environment of use. Will it be transported often? Factor in the overall size. Will appearances mainly be made indoors, outdoors, near a swimming pool? Factor in materials and cooling systems.
Another dimension a good costume character programme should consider is engaging guests in the design and naming process. School competitions and social media campaigns help leverage PR; prizes can include season tickets and themed birthday parties featuring the costume character.
A good costume character programme should also invest in a high quality manufacturer, mindful of both the design and the performer's comfort. Performer training is also a key consideration.
Then there is the inevitable question of whether or not a venue should go for a well-known IP character or a 'home grown' character? No one-size-fits-all approach applies when considering a well-known IP character versus a 'home-grown' character.
Investment in an IP enables venues to tap into existent brand marketing – often on an international scale – delivering a ready-made audience with a degree of loyalty to the brand. But the IP's demographic should align as much as possible with the venue's own audience – and it should possess longevity. While associated licensed merchandise stocked in on-site outlets may generate increased sales, a percentage of these sales must be returned to the brand owner.
Home-grown characters generally offer greater flexibility, are less costly initial investments to develop but need to be widely marketed to bolster the character's identity. Opportunities to develop merchandise lines will also exist, generating royalty-free revenue streams for the attraction.
A successful home-grown character can also help create its own strong, regional identity. The branding often translates well on corporate communications – websites, business cards, focal points for kids' clubs – becoming a brand in its own right. Over time, the venue can tap into their own home-grown character's appeal through the possibility of perhaps introducing a partner/family of characters to complement the existing programme, opening up extra merchandise and branding opportunities.
A licensed IP at Adventure Time, IMG Worlds of Adventure, Dubai
So how long can a costume be expected to last? Factors determining this particular aspect include the environment and frequency of use, how the costume is stored and looked-after in between appearances, maintenance and client expectations.
Typically, a costume can be expected to last around five years, often much longer. In the extremities of Middle Eastern heat, for example, costumes can be adapted for the performer and materials chosen to help prolong the costume's life-span, although the extreme environment of use, in these cases, means costumes often may not last more than two to three years.
Training is also a very necessary element of a character costumer programme. Performing in costume is a very exclusive performing medium. Often regarded as street theatre, on any one day a costume could meet and interact with up to 2,000 people. Often the photo of a costume character posing alongside a family is considered the keepsake souvenir of their day out.
Therefore, investing in a training programme to complement the actual development of the physical costume should be factored into a successful costume character programme. To not place fully trained staff into the costume character is doing the brand a disservice because – in short – the better the training, the better the performer. As well as learning the art of improvisation, character movement and expression through gesture, training often addresses topics such as the performer's health and safety and how best to look after the costume to best prolong the life of the investment.
For more information or advice on developing a costume character programme contact Rainbow Productions on +44 (0)20 8254 5300, email
https://www.dpassociates.uk.com/wp-content/uploads/2018/10/Character-costumes.jpg
536
800
JS
https://www.dpassociates.uk.com/wp-content/uploads/2018/10/dpa-logo-1.jpg
JS
2016-08-18 13:25:02
2019-01-28 20:42:18
Developing a successful costume character programme